Bing Cherry Chocolate Cupcakes
Bing Cherry Chocolate Cupcakes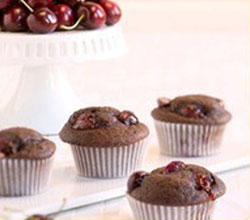 INGREDIENTS
8 ounces butter at room temperature
3/4 cup sugar
2 eggs, beaten
2 cups all-purpose flour
2 teaspoons baking powder
1/2 teaspoon salt
1/3 cup unsweetened cocoa
1 cup milk
1 1/3 cups pitted cherries, halved
DIRECTIONS
Preheat oven to 400 degrees F.
Cream together the butter and sugar using a wooden spoon or an electric mixer 4 to 5 minutes, until fluffy and light.
Slowly beat in the eggs. In a bowl whisk together the flour, baking powder, salt, and cocoa.
Add this to the egg mixture along with the milk and mix just long enough to blend the ingredients, no more than 20 seconds.
Fold in the halved cherries, no more than another 10 seconds.
Let rest 10 minutes, then fill greased muffin cups to the brim with the batter.
Bake until a toothpick inserted in the middle comes out clean, about 20 to 25 minutes.
Remove and let cool 10 minutes before unmolding.
1 dozen