Quality, Consistency, Experience
Since 1990, Primavera has worked with the most experienced growers who understand the importance of growing fruits and nuts of the highest quality. Primavera specializes in providing accurate information to help
their buyers plan for the upcoming season. At Primavera, service can also be defined as the willingness to listen to customers' needs and the ability to adapt and change with the customers' demand. Primavera has made a commitment to having the strictest standards in food safety and being environmentally friendly.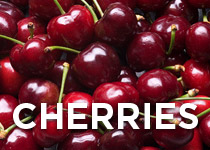 For generations, Primavera has proven the ability to produce the largest, firmest cherries with the best flavor. Primavera covers land as far south as Arvin all the way up to the most fertile soil in the San Joaquin valley, Linden, CA.
Primavera produces the finest apples in California. We offer fresh, crisp, sweet Gala, Granny Smith, Pink Lady and Fuji apples to our consumers from August to February.
Linden, California is one of the finest walnut growing regions in the world. The fertile soil and warm, dry climate produces a light colored and great tasting product that is enjoyed by customers around the world.